The Davis County Commission is now offering down payment assistant loans up to $50,000.   This program is designed to make housing more affordable in Davis County.  Here are some of the details regarding this assistance program.
The funds can be used for principal reduction, interest rate reduction (up to $10,000), or up to 50%
down payment and/or closing costs.
Cash back is not allowed at closing.
Do NOT need to be a first-time homebuyer.
35/50 debt-to-income ratios. This means that the house payment cannot exceed 35% of household
income, and the house payment plus other loans cannot exceed 50% of household income (only
counts payments associated with an interest rate, such as a credit card, a car loan, or an installment
loan).
Purchase price cannot exceed $500,000.
Stackable with other grants such as:
$20,000 First Time Homebuyer Assistance Program from the state for new construction
Utah Housing down payment assistance programs (loans up to $25,000)
$70,000 Home Choice loan for families with disabled family members
$25,000 grant for Law Enforcement Officers
$5,000 grant for veterans who have never owned a home in Utah.
Eligible for single family homes, condos and town homes. Mobile homes and multi-family homes are
not eligible.
The home must be in Davis County.
Recipients of this loan must complete a home buyers education course created by Utah State
University. Cost is $75 and this cost can be reimbursed by the grant money.
The income of all persons over 18 years of age who live in the household will be included in the
calculation.
This 1% loan will not require a monthly payment. The loan will be attached to the title of the home as
a "silent lien," which is not due to be repaid until the home is sold. If the home is refinanced, in most
cases the lien will be resubordinated to the new mortgage. The lien would only become due upon a
refinance if it was a cash- out refinance that did not use the funds to improve the home. Any
refinance must be approved by the Davis commission.
Applicants cannot have more than $10,000 in liquid savings. Retirement funds are excluded.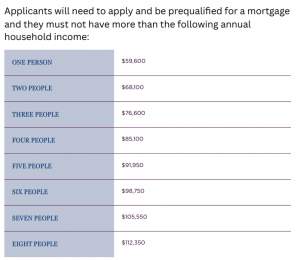 For more information on this program and how you can take advantage of this, call Dan Nix with Coldwell Banker Realty Station Park at (801) 898-4646.